IKON MWE975 3D HOLOGRAM FAN DISPLAY WITH LED LIGHT FOR ADVERTISING
S$950.00
Features:
Application fields: Public places, for example, shopping mall, restaurant, airport, square, commercial buildings, Exhibition etc.
Outer shell is made of extra good quality metal material, which is painted by powder-spray craft work.
Support shockproof and dust proof function.
Support IR Remote controller, user can use remote controller to operate the whole LED light display.
Playing circles automatically when powers on, With Wifi control
Product supports commonly used video, animation and picture display.
This 3D LED fan should be used indoor. If you want to use it outdoors, please equip it with a protective cover.
It is suggested to be installed 3.5 meter high to avoid any possible damage.
You can customize and edit its video or pictures. We offer video/pictures editing software.
12V mobile power supply, can use about 8 hours.
Availability: in stock
Compare
Technical Specifications: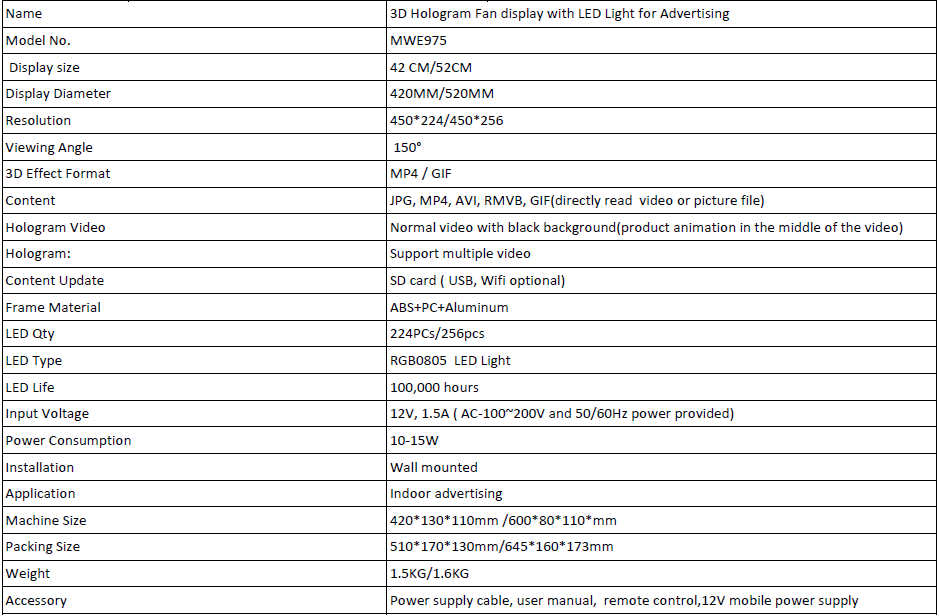 Only logged in customers who have purchased this product may leave a review.

IKON was born because over the years, Audio Light Asia realized that they needed to customize LED screen and other products for designers and consultants as off-the-shelf products did not meet specific needs. Thus with IKON they are now able to fulfill the requirements of their clients when off-the-shelf products are not able to provide the solution.
This additional dimension to the company thus ensures that clients' needs are always met. IKON LED screens can be custom build for various purposes such as LED based video displays, LED-back lighted displays, matrix text displays and decorative stage lighting purposes.
Our custom LED screens can be installed in any space and can easily meet your aesthetic design needs. Our IKON LED screen has excellent bright displays and sleek look to create a WOW appeal and impact. We understand that every project has its own needs and no matter what your needs are, we will always try to exceed our architectures' atmospheric and empiric design goals. IKON is one of the leading LED screen supplier in Singapore with excellent LED display screen choices and outdoor LED screen range.