Inoage GmbH, formerly known as inoage trade GbR, was founded by Christian Hertel, Sebastian Pinzer, and Sebastian Wissmann. The company behind the MADRIX brand is located with its main office in Dresden, Germany, and offers its products worldwide. In the last years, Inoage has established itself as a leading provider of LED lighting control solutions based on software and hardware in the professional lighting market. The LED lighting sector being a relatively new market segment, inoage seized the opportunity to launch a software especially custom-designed for the users' needs. Therefore, the software concept is based on user friendliness, productivity, and ease of use. MADRIX is designed with the user in mind. It just works.
"The best way to predict the future is to invent it." – Alan Kay
MADRIX AURA – a new hardware is coming soon!!
MADRIX AURA is the advanced lighting control recorder and stand-alone playback unit.
Developed and made in Germany.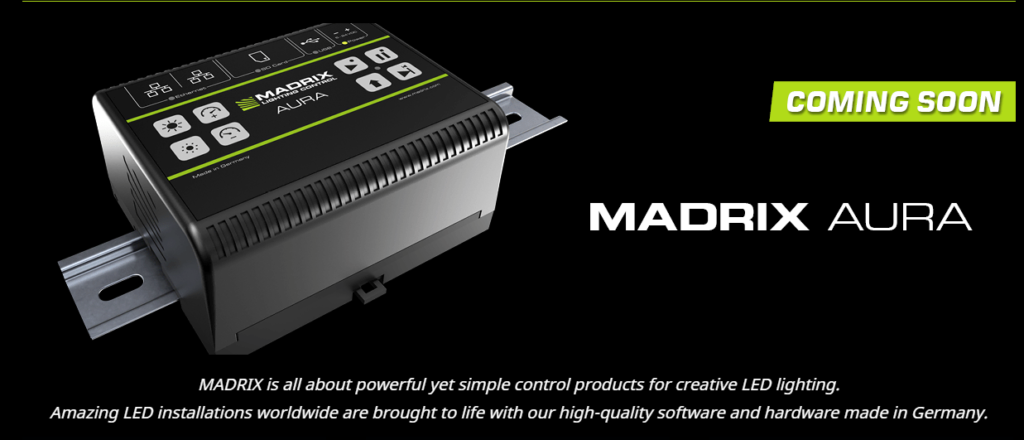 Introducing MADRIX 5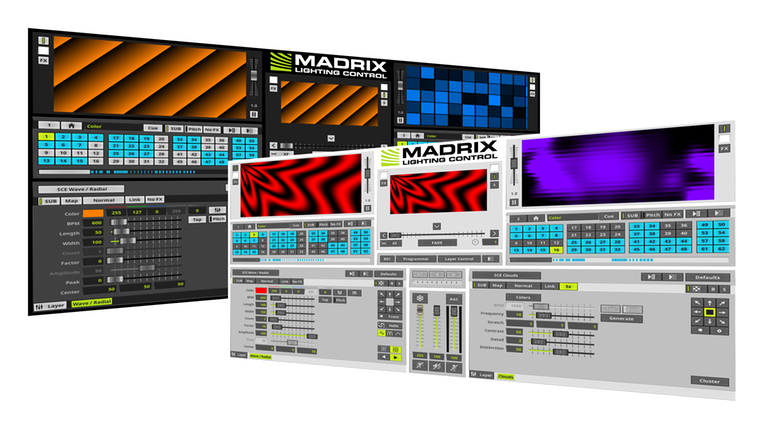 ULTIMATE LED CONTROL
MADRIX 5 includes all the groundbreaking features of MADRIX 1, 2, and 3.  Plus so much more. This is the overview over the main new features of MADRIX 5.
TRI Effects will be based on existing MADRIX Effects. On top, you can trigger them manually using DMX-IN or MIDI. This will add a whole new level of interaction.
The user interface will be completely overhauled with helpful additions and useful reductions. Everything will be easier to read and easier to use.
The media server capabilities will make a big leap. The audio track of videos can be put out directly. VJing will be more creative than ever.
Two fresh new GUI color schemes will allow you to work better in different environments. Choose freely between the dark theme and the light theme.
MADRIX RADAR is independent software that allows you to choose compatible RDM nodes. You gain an enormous advantage with MADRIX RDM nodes of running a fully integrated system. Our MADRIX hardware processes RDM data packages in a way that does not result in interference with DMX data packages during full and live operation, which could lead to visual flickering or other signal interruptions. MADRIX interfaces manage these data streams highly efficiently and intelligently.

Fully automatic 24/7 device monitoring.
Automatic e-mail notifications.
Unleash the full potential of RDM.
Require a valid, metallic MADRIX® KEY.
Online activation is initially required one time. The ticket number is provided digitally as PDF via e-mail.
It is possible to have a MADRIX® RADAR fusion license and a MADRIX® RADAR big data license on a single MADRIX® KEY.

Models:

IA-SW-005051 MADRIX® RADAR fusion small Unlocks management, configuration, and monitoring of up to 32 RDM devices/sub-devices for MADRIX® RADAR. IA-SW-005052 MADRIX® RADAR fusion medium Unlocks management, configuration, and monitoring of up to 256 RDM devices/sub-devices for MADRIX® RADAR. IA-SW-005053 MADRIX® RADAR fusion large Unlocks management, configuration, and monitoring of up to 2,048 RDM devices/sub-devices for MADRIX® RADAR.