DIN rail mounted lighting controller
The DINA-DR1 is the latest lighting control solution from Nicolaudie Architectural. Our talented R&D team has worked a lot to design this all-in-one controller featuring multiple output protocols, triggering and integration facilities, programmable memory for dynamic lighting sequences, remote control...
2000 SCENES
20 ZONES
3072 CHANNELS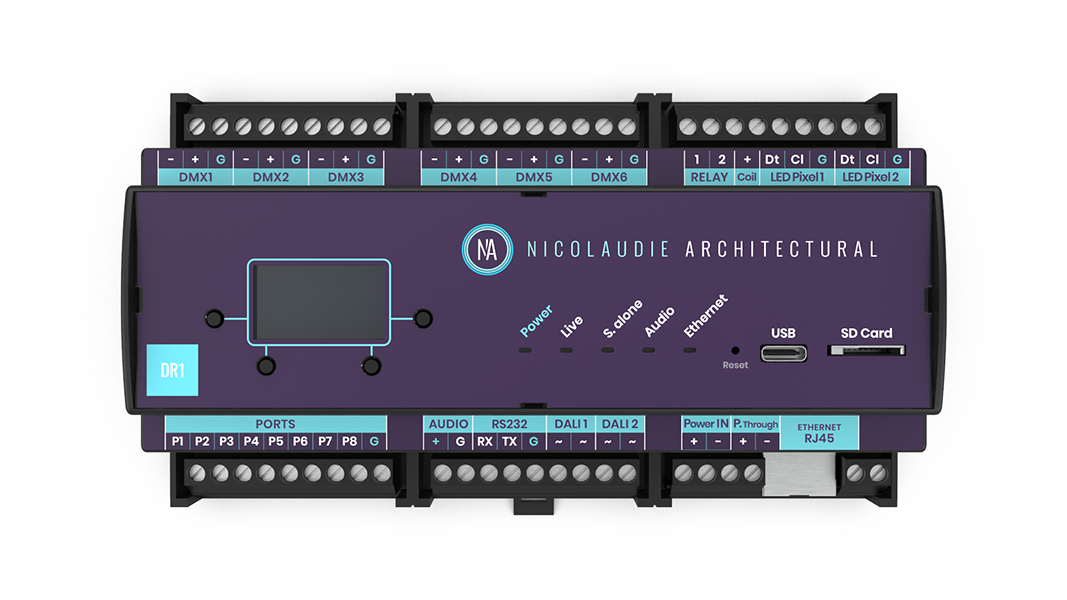 Robust, powerful and scalable solution. Designed to last.
Designed for din-rail mounting, the DR1 is a strong and durable solution for fixed lighting installations. Up to 3072 channels (1024 RGB or 768 RGBW fixtures) can be controlled over several protocols: DMX 512, Art-Net or SACN, LED Pixel, DALI. Multiple controllers can be connected and synchronized for large-scale lighting installation.

Built on the NSA (New Stand Alone) engine, the DR1 offers multi-zone show control as well as advanced and flexible triggering and integration possibilities: Time, Audio, Ports, RS232, TCP, DALI...

This is the first lighting controller offering an all-in-one solution with multiple protocols. The DR1 can output DMX, Art-Net, SACN, DALI, LED pixel and create a control gateway for the most demanding dynamic lighting installations.

There is nothing easier than programming the DINA-DR1: connect the controller to your computer (PC or Mac) over USB/Ethernet and start the ESA2 or ESA Pro2 software. No computer available? No problem, connect the DINA-DR1 to the local network and use the on-site programming app Arcolis to program the device with your smartphone or tablet.

Some features may require future firmware updates, see the specifications for estimated availability
Programmable with ESA Pro 2
ESA Pro 2 is our latest generation of programming software. Available for Mac and Windows, this is the perfect complement to the DINA-DR1 controller: pixel mapping, triggering management, patch configuration, everything is available with a few mouse clics. The only limit is your imagination.
New Stand Alone Engine
The new Nicolaudie Architectural engine (NSA) offers great possibilities for the control of your lighting installation: multi-zone, extended triggers, multiple output protocols, 16-bit channels management, full recovery after power lose, and more...

Some features may require future firmware updates, see the specifications for estimated availability
Extended triggering possibilities
Triggers are very important for lighting control. The DINA-DR1 offers multiple possibilities to trigger your lighting scenes: time/date, input ports, RS232, TCP/UDP commands, DALI...
In combination with ESA Pro 2 software the DR1 offers a lot more than just assigning a trigger to a scene. Each trigger is made of an event and conditions. The programmer can define a specific conditional procedure for each trigger to perfectly fit the most demanding lighting installations.

Some features may require future firmware updates, see the specifications for estimated availability
Multiple output protocols
A total of 3072 channels (1024 RGB or 768 RGBW devices) can be individually controlled by the DINA-DR1. If most of the installations will use the 6 DMX outputs, it is also possible to drive the 3072 channels over different protocols and connectors: eDMX (Art-Net, SACN) through the RJ45 connector or LED Pixel (2 output connections).

Some features may require future firmware updates, see the specifications for estimated availability
Scalable
Several DINA-DR1 lighting controllers can be linked together on a standard local network to extend the number of channels (e.g. 4 linked DINA-DR1 would make it possible to control 4x3072=12288 channels and so on...).

Some features may require future firmware updates, see the specifications for estimated availability
Compatible with LS Cloud
LS Cloud is a secure web service offered by Nicolaudie Architectural to manage your lighting controller from anywhere in the world, at anytime. With this new service, you can modify the programming of an installed DINA-DR1 directly from your office, manage the hardware settings, update the product firmware...

Some features may require future firmware updates, see the specifications for estimated availability
DINA-DR1 Technical Specifications
General
Dimensions:160 x 91 x 62 mm
OUTPUT channels: 3072 (DMX, eDMX, LED pixel)
Scalable: Available 2021
RDM
LED Pixel output: Available 2021
Stand Alone
Power connector: Screw terminal
Triggering
Remote control apps: iOS/Android
Programming software/app